Mid Summer Fashion Giveaway! Win $100 Shopping Spree from SHEINSIDE.COM INTERNATIONAL GIVEAWAY
Welcome to the Mid Summer Fashion Giveaway !
This giveaway is hosted by Diva Fabulosa Fashion Blog and made possible by SHEINSIDE.com
I just discovered SHEINSIDE.com and I am very much in love with this store. They have so many nice things. I want to have them all!! LOL. But seriously, I love them because they have new items EVERYDAY, they offer FREE SHIPPING WORLDWIDE and what's even better, aside from the fact that they accept credit cards, also they accept paypal for payments. What more can you ask for?
Here are some of the things in my Sheinside Wishlist.
Sheinside.com has been generous and would love you to experience a shopping spree!! Join now and you might be the lucky one to shop for free!! The giveaway ends on August 9 and the winner will be chosen at random and announced on Aug 11.
Good luck!!!!!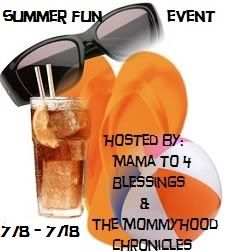 Thank you for stopping by The Summer Fun Giveaway Event, hosted by Mama to 4 Blessings and Mommyhood Chronicles! This event will take place from July 8th at 12:01am EST to July 18th at 11:59pm EST. For this event we will be celebrating summer! Which means each participating blogger will be offer summer related giveaways $15.00 and up! After entering my fantstic giveaway be sure to visit each blog from the linky below the Rafflecopter and enter for your chance to win
some really amazing prizes!

Disclaimer- I received no compensation at all to host this giveaway. Winner to be announced by Diva Fabulosa. Diva Fabulosa is not responsible for the delivery of the prize. Prize will be sent from the company. If you have any concerns please send an email to jade@pinayjade.com